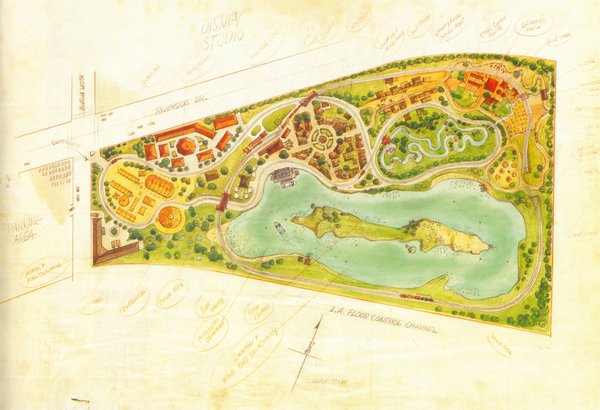 In 1932, Walt Disney considered building a family park on a vacant 16 acre plot directly across the street from his studios. Unfortunately the idea was turned down by the City of Burbank. That, however, didn't discourage him to further elaborate his ideas over the next decades. By the late forties, the concept of what would later become Disneyland began to take shape.
Not everyone was as enthusiastic as Walt about the project. Bankers, investors and lot of people within the company strongly opposed to it. His brother Roy thought that a "fanciful, expensive amusement park would lead to financial ruin." After all, Walt Disney lacked the real estate and commercial construction experience to bring this kind of adventure to a good end.
But Walt was confident of his vision and started to gather the necessary funds all by himself. He sold vacation property and borrowed on his life insurance. He assembled a team of the Studio's most talented and inventive staff members and gave them the task to develop his broad ideas and create, with the help of commercial contractors, a rough construction timetable.